Chief Minister Sarbananda Sonowal launched Websites for Majuli
In a move to project Majuli as an epicenter of Satra culture and a seat of mythological tourism to the world, Chief Minister Sarbananda Sonowal launched two websites through a video conference for Majuli at a function held at the conference room of Chief Minister's Office in Janata Bhawan.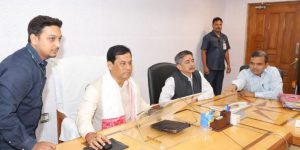 The two websites namely 'www.majuli.gov.in' and 'www.majuliraas.in' were launched by the Chief Minister to bring Majuli and the government schemes being implemented in Majuli and its famous festival Raas to the tip of finger of everybody. Chief Minister Sonowal said that with the launch of the website the popular Majuli Raas festival will get more patronage. He also said that with the launch of the website, people will get instant access to the information of all government schemes, plans and programmes. Similarly, another website contains the importance of Raas, its historical and mythological importance, list of venues in Majuli celebrating Raas, roadmap to visit Satras, accommodation in Majuli, food joints, tourist guides, phone numbers, connectivity to Majuli etc.
Chief Minister Sonowal lauded Deputy Commissioner of Majuli Bikram Kairi and his team and NIC Majuli for developing the websites.