Training on "Secure Application Code Development and Application Security Audit"
The NIC Regional Centre of Excellence for Application Security conducted a one day training on "Secure WebApp / Mobile App Development Awareness and Application Audit Methodologies" on 31-Oct-2019 at the NIC RCoEAS, Guwahati. Developers and project leaders from the NIC Assam State Centre, attended the programme at RCoEAS, Guwahati while the DIOs and DIAs from NIC District Centres of Assam participated through video conferencing.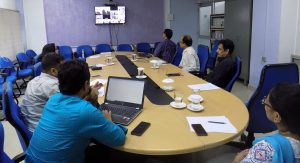 The objective of the training programme was to familiarize/guide the participants on best practices and recommendations of OWASP for secure web/mobile application development and steps/procedures involved in the audit of these applications by NIC. Most of the participants expressed in their feed backs on the usefulness of the training programme and suggested for more frequent organization of such training programmes in future.